Dec. 22, 1924 - Nov. 25, 2005

Herbert C. Jackson Sr. died Nov. 25, 2005 at his home in Vallejo, Calif. after a long illness. He was born on Dec. 22, 1924 while everyone waited for Christmas. He was the first of nine children to the late Collie Sr. and Pinkie Jackson in Falls County, Marlin, Texas.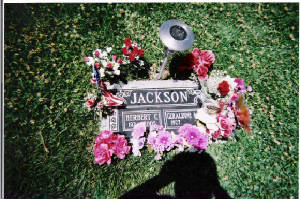 Paulette Robertson

(on the left)

Born July 18, 1950

Paulette is loved and missed. She is survived by her son Leandre Williams, grandson Leandre Jr and a host of family and friends.
Reverend Dr. Rufus McClain Sr.

Service of Worship and Celebration

Saturday, November 9, 2007

11:00 A.M.

Greater Zion Missionary Baptist Church

2625 South 18th Street

Waco, Texas 76706

Gone Home November 2nd, 2007
Walter Leon Jackson

October 7, 1933 ~ November 8, 1988

 
February 6, 1916 ~ October 3, 2006

Mother Pinkie Dunbar was born in Caron, Texas and moved to Phoenix Arizona in 1943. She met and married Dr. L.J. Dunbar and they had two beautiful children, Beverly and Larry. Mother died October 3rd, 2006 and she is sorely missed.
January 23, 1927 ~ October 16, 1970

We live while we see the sun, where life and dreams are as one. And living has taught me this. man dreams the life that is his until his living is done.

Father of Mira, Kathy, Collie and Glenn Erroll.
 

Kylan Jamar Wilson
Born in Albuquerque, New Mexico on 06/18/1989
Departed on 08/05/2007 and resided in Albuquerque, NM
WILSON - Kylan Jamar Wilson, 18, a resident of Albuquerque, went to be with his Lord on Sunday, August 5, 2007. He was born on June 18, 1989 in Albuquerque. Kylan was in his Senior year at West Mesa High School where he was involved in B.S.U., as the music director. He was also a member of Victory Outreach Church and its youth group where his many musical talents were utilized in the music ministry. He was baptized at an early age at Antioch Baptist Church in Albuquerque where he also utilized his many musical talents. Surviving are his parents, Pastors Charles E., and Lena Mitchell; sister, Keyana M.; maternal grandmother, Claudia E. Wilson, all of Albuquerque; uncles, Darrell and Clarence Wilson; first cousins, Keiosha and Karena Wilson; and many additional relatives and friends. Kylan was preceded in death by his maternal grandfather, Edward M. Wilson in October, 2001.


Alonzo, you are sorely missed.
1916 ~ 2006

Wade Brown was the Father of Wanda Jackson and father-in-law of Collie Jackson.

"Please don't say that I gave up, just say that I gave in. Don't say I lost the battle, for it was God's war to lose or win. Please don't say how I was, but that I did my best. Just say I tried to do what's right, to give the most I could, not do less."


Butch Sparks

Charles "Butch" Sparks passed away on Valentine's Day, 2006 at 50 years of age. Butch had been sick for awhile, needing dialysis on a regular basis. The father of 8 was a Detroit, Michigan native and the brother of Jean Anderson.
Odis E. Rhodes 1941 ~ 2006
Mr. Odis E. Rhodes was laid to rest Saturday March 4, 2006 at God's Way Community Church. He was a member of the Wilson side of our family, and the brother of Willie Faucett. Our family from Alburquerque, New Mexico mourns the loss of Odis, and we are praying that God gives them peace during this trying time.
________________________________________________________________
Harvey Cooper III
left this world Friday, February 10, 2006 in Waco, Texas. He passed away after a long illness. Harvey was the husband of Gwen Cooper and the son-in-law of Tommie Louise. _________________________________________________________
Fannie Mae
Bonner ~ 12/18/1945 ~ 1/10/06
Fannie Mae was laid to rest January 10 2006 in San Antonio, Texas after a long fight against cancer. She died at home in the presence of her sisters and her family. We mourn the loss of this Sanders Family matriarch.
__________________________________________________________
Born May 12, 1928 ~ Gone Home October 28, 1990
 

Wife of Fred McLemore


Geneva McLemore

Geneva McLemore

September 3, 1927 ~ June 6, 2009

A beautiful light whose love warmed each and every person she ever came into contact with.

We still miss her.


Aunt Lenora

May 30, 1931 ~ August 18, 1994
Entered this world June 29, 1934 ~ Went home on October 2, 2003.

Grandma, we STILL miss you. Thank you for giving us your wisdom and love while you were here.
November 15, 1945 ~ March 19, 2000




Willie Mae McLemore

January 17, 1922 ~ December 27, 1986

Willie Mae was born in Deberry, Texas to Oscar & Lessie Mack. She married James McLemore there and soon moved to San Francisco where she raised nine beautiful children.